ROYAL COLLEGE OF ART OCTOBER/DECEMBER 2017
Project Partner: Ealing Council
Team: Francesca Schiboni Grimaldi, Alison Maggioncalda and Octavia Coutts
A self-service design workshop focused on mental wellness for Year 11 students to help reduce stigma and foster coping skills
How might we develop service propositions that can tackle the challenge of loneliness in present London and project a vision of how to develop systemic interventions into the future?
We focus on London, and particularly on young adults. Young adults in London are twice as lonely as the national average, and they are also more likely to worry about feeling alone, and to feel depressed because of loneliness than older people. 
We explored loneliness through the lens of technology because tech ia a unique driving force behind young adult loneliness today. Several elements of technology use ate associated with poorer metal heath and less satisfaction with one's social life. 
Moreover, transient loneliness is normal and heathy, but it can become chronic and costly over time. Chronic loneliness contributes to increased depressive symptom, after cognitive decline, and even premature death. ACEVO has estimated that young adult loneliness in London contributes to prince tag of 34.5 billions pounds.
All of the research just mentioned is complemented by our own primary research. Our survey found that the loneliest respondents on average spend much more time on consumptive mobile apps like TV, Gaming, and web browsing than the least lonely. This is consistent with a study on Facebook activity and loneliness, which found that users who consume greater levels of content report increased loneliness and reduced bonding social capital, while those with more directed activity report the opposite.
Across our research, 5 key themes emerged:
Meaningful connection is often face-to-face and involves shared experience
Fear of rejection prevents people from sharing their feelings 
Social Media is very polarizing. 
People love being able to stay in touch with friends or family, but also hate the perceived information overload and extreme social comparison. 
People wish they learned that loneliness is normal earlier in life, ideally along with some tools to stop it from becoming chronic. 
There is a perception that building deep relationships requires more time than people have.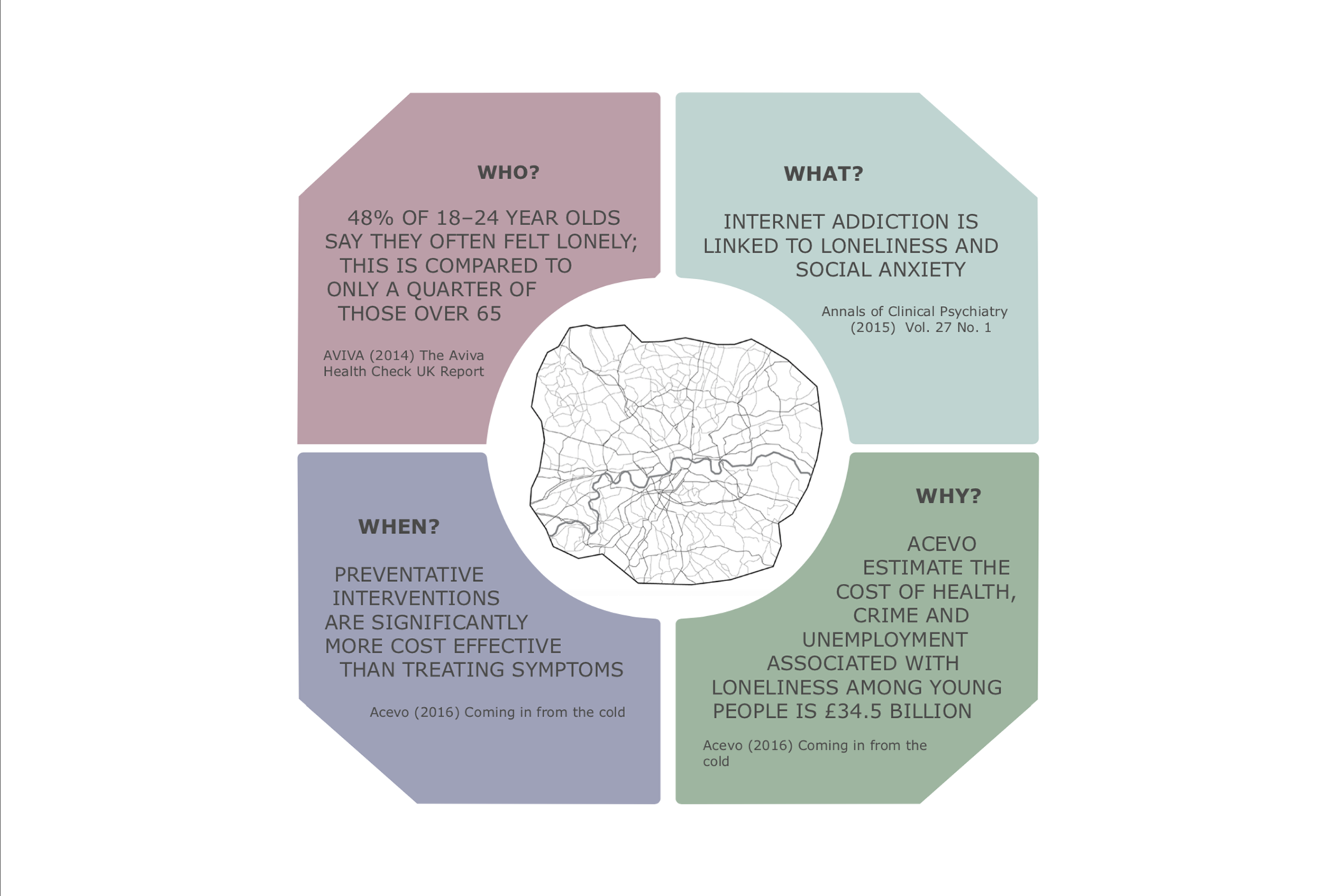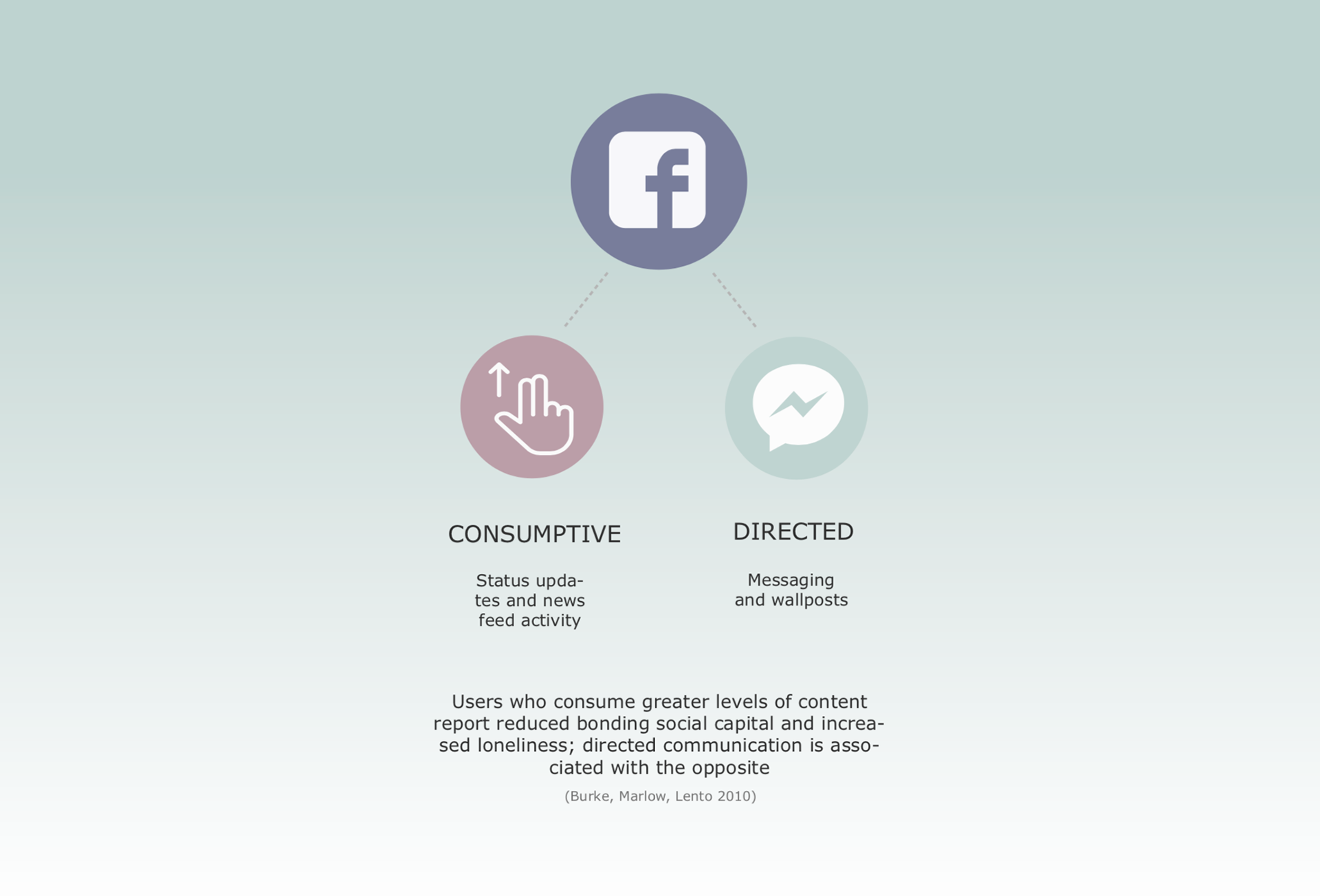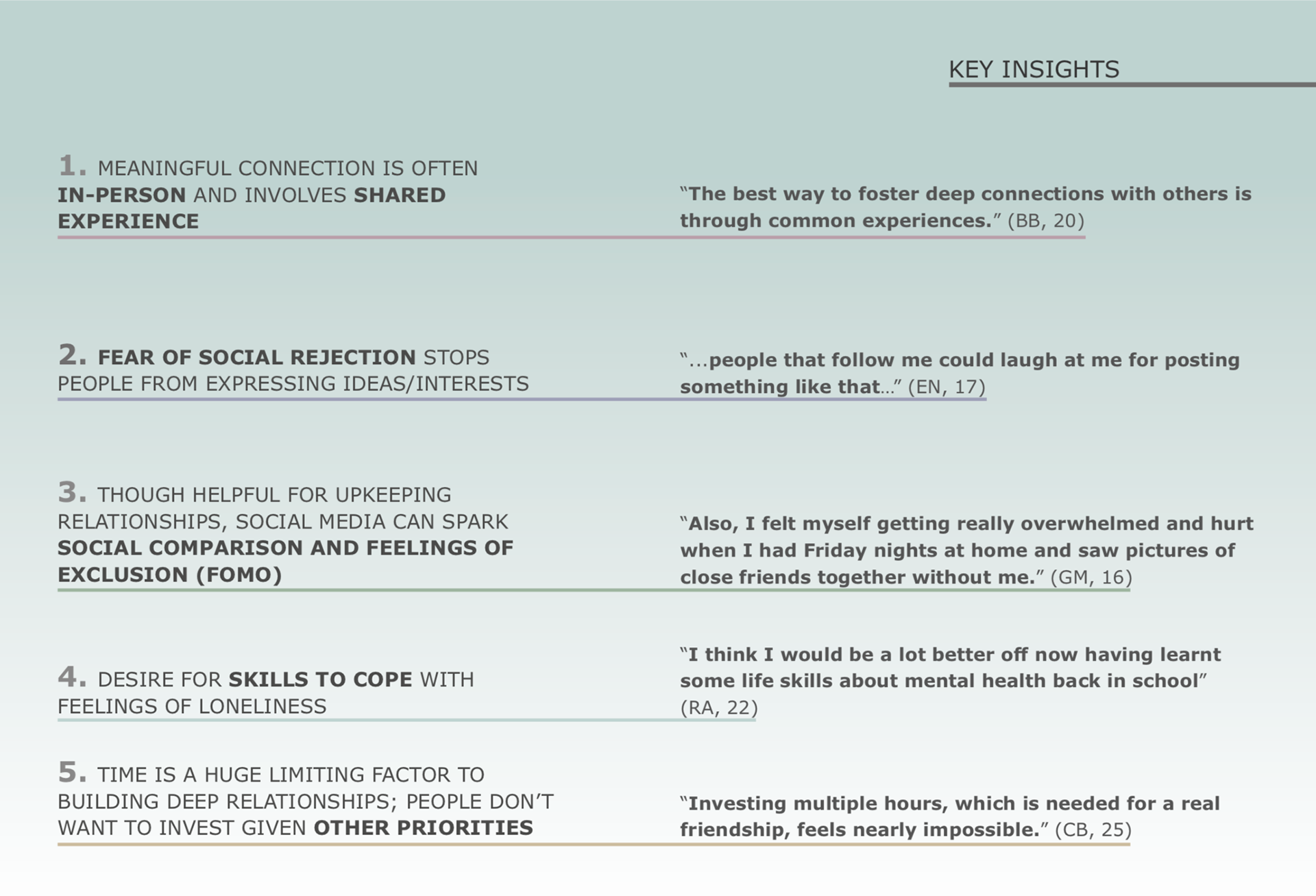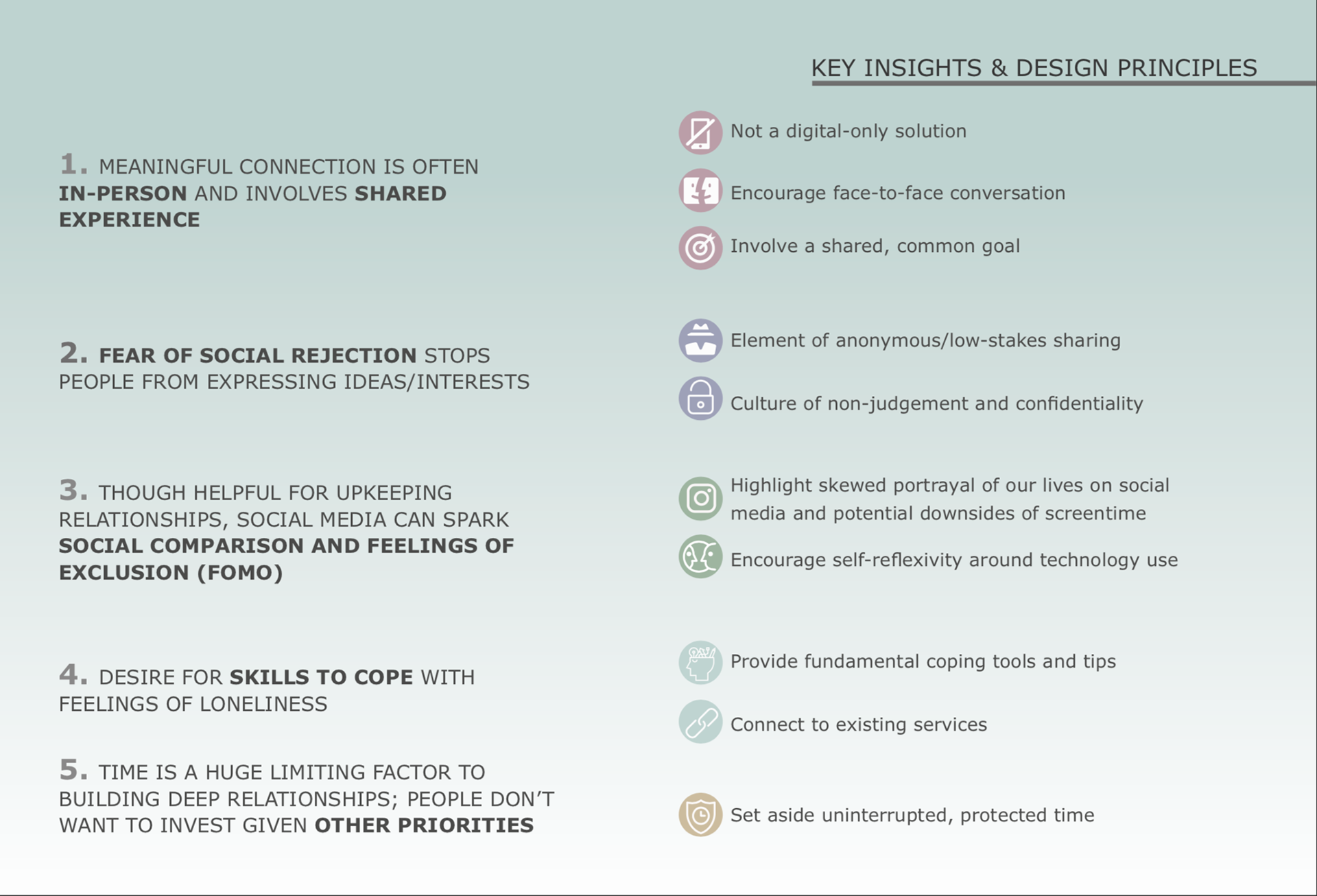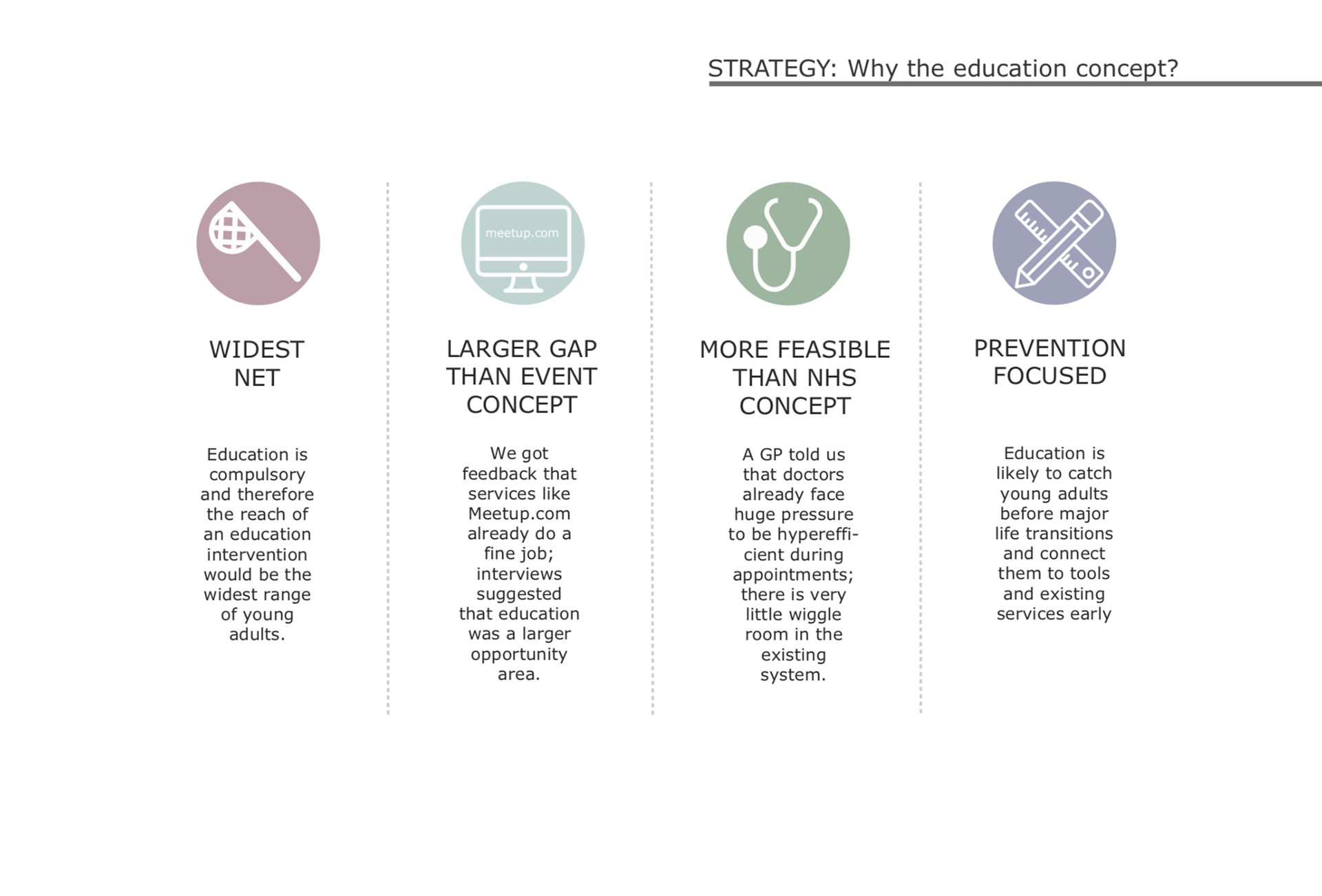 Considering young adults and the integral role of technology in their lives, our mission is to reduce loneliness, as defined as a perceived mismatch between desired and actual social interactions.
To drill down from our mission to a strategy, we converted our 5 key insights into 10 design principles. For example:
Encouraging face-to-face conversation
Including an element of anonymous sharing
Getting young adults to question how they use technology, for good and bad
Connecting to existing services
Making time in busy schedules
Therefore, the execution of our strategy is MYND, a self-service, interactive design workshop for Year 11 students to stimulate dialogue around mental wellness issues and foster creative problem-solving skills. 
It is designed primarily to foster a safe school environments, support students in designing solutions to wellness issues that they face, and connect them to wellness-promoting resources and tools. 
Students say they find workshops to be more engaging than lectures. 
In the field of nutrition, "stealth health" is used to describe sneaking healthier eating habits into people's lives without that being the primary focus. We believe design can do this for mental health. 
Interviewees said Year 11 was a sweet spot in terms of maturity and school timing. 
A school-based intervention reaches all students, whether they are lonely or not, stressed or not. 
Loneliness, Stress, and Compulsive Behaviors are 3 options that students can choose from for the workshop to maximize topic interest and comfort. 
Finally, a self-service toolkit with workshop directions and materials drives down overhead cost and allows educators to deliver the workshop at the most appropriate time for them. 
We've divided the overarching MYND service experience into 4 parts -- FIND, JOIN, USE, and RETAIN.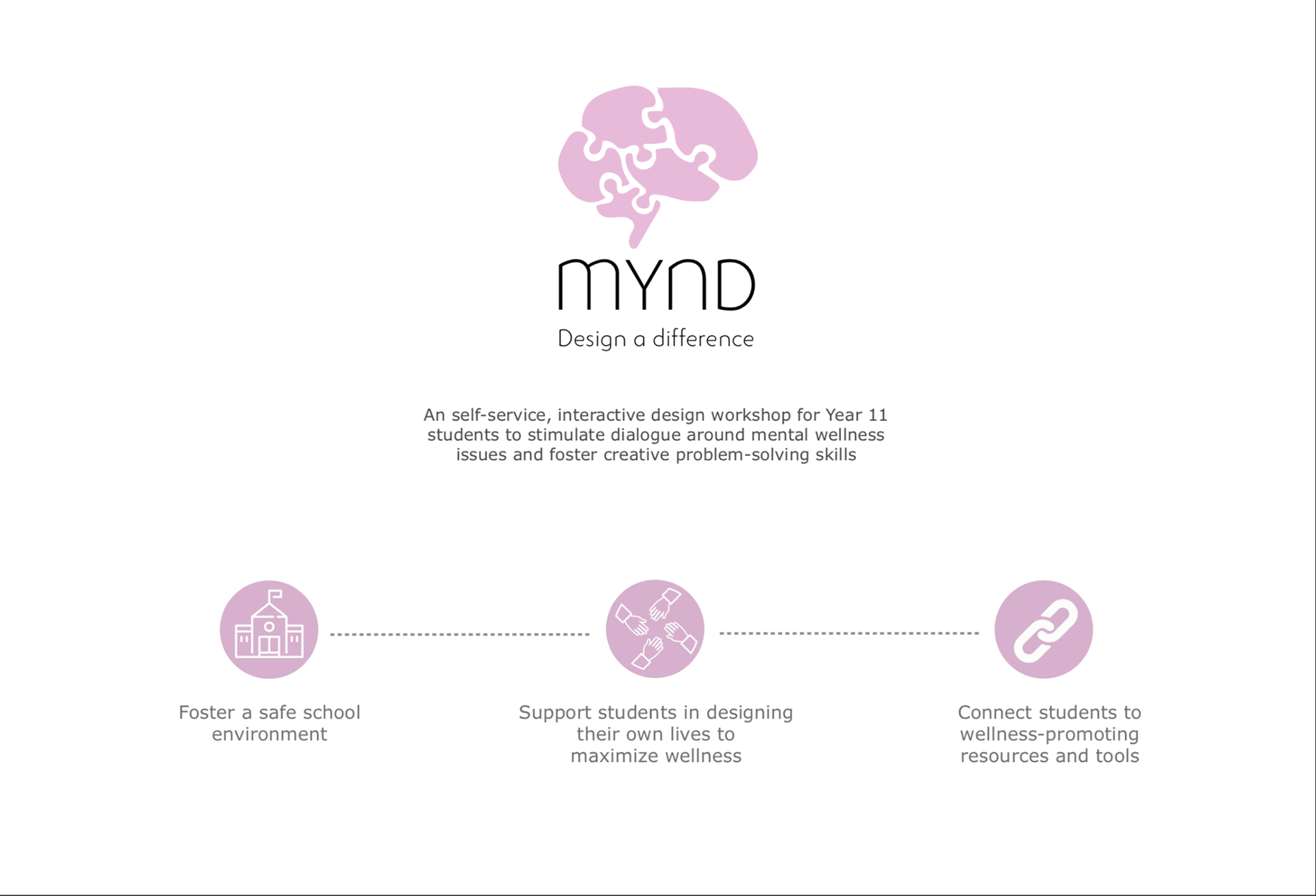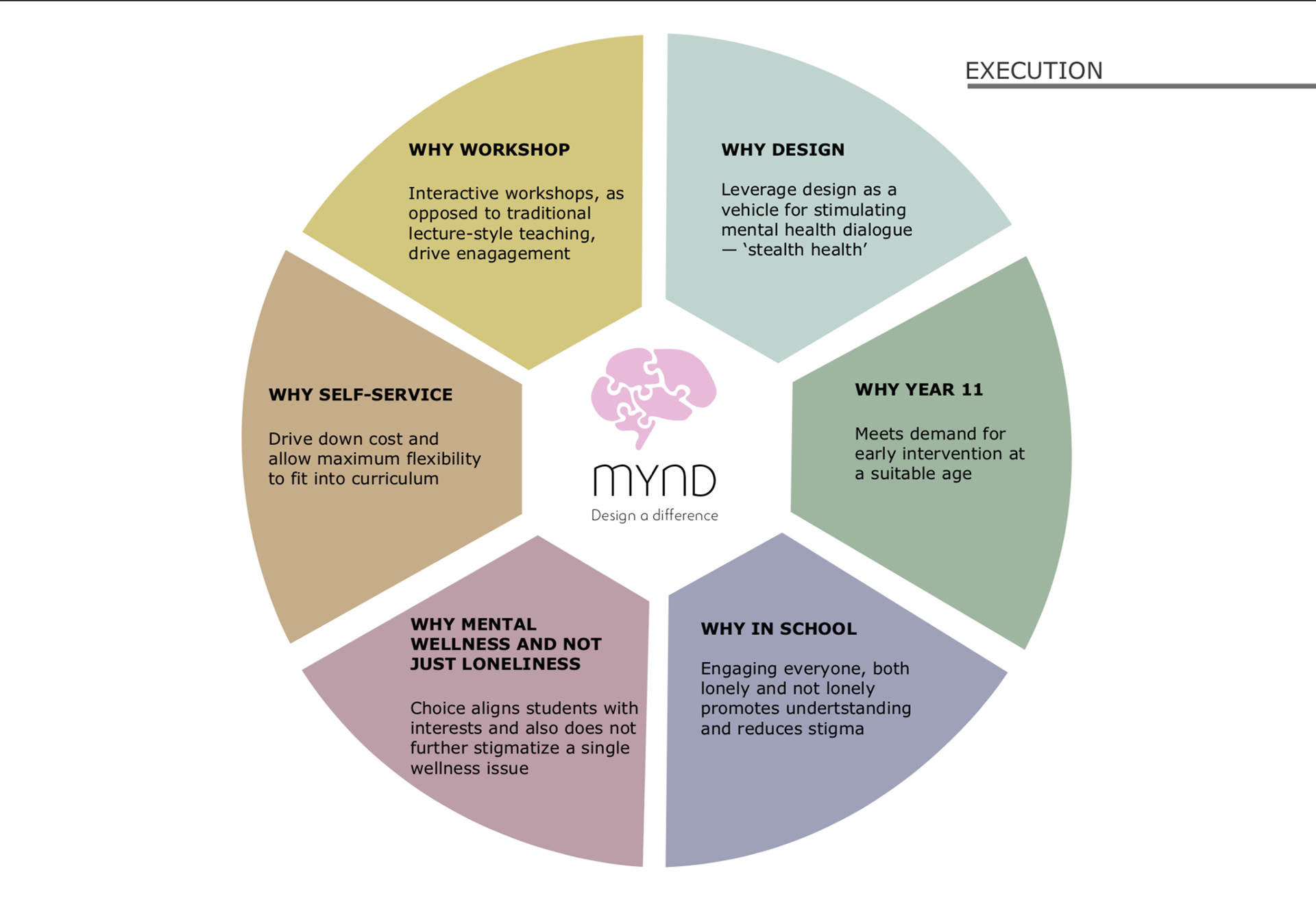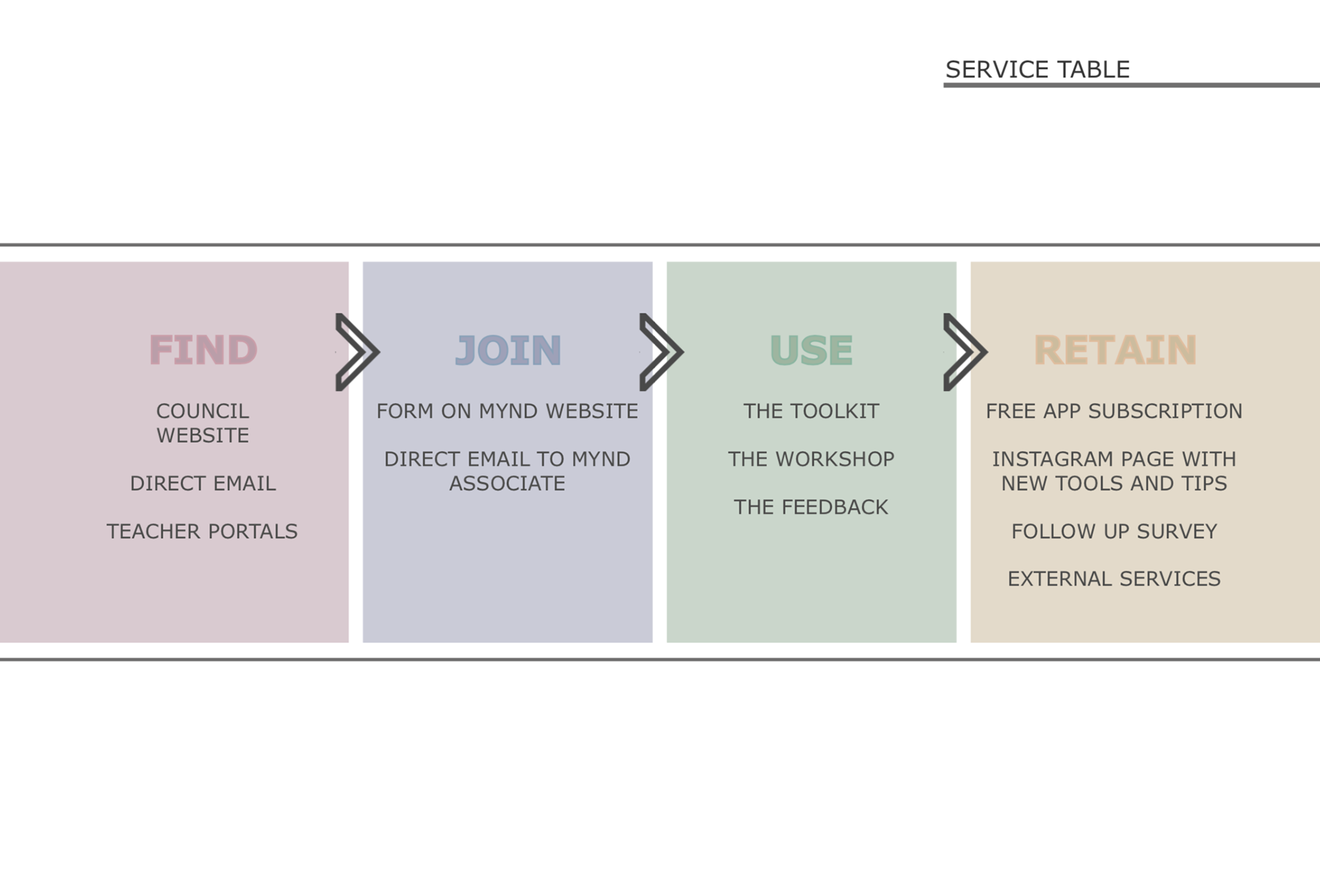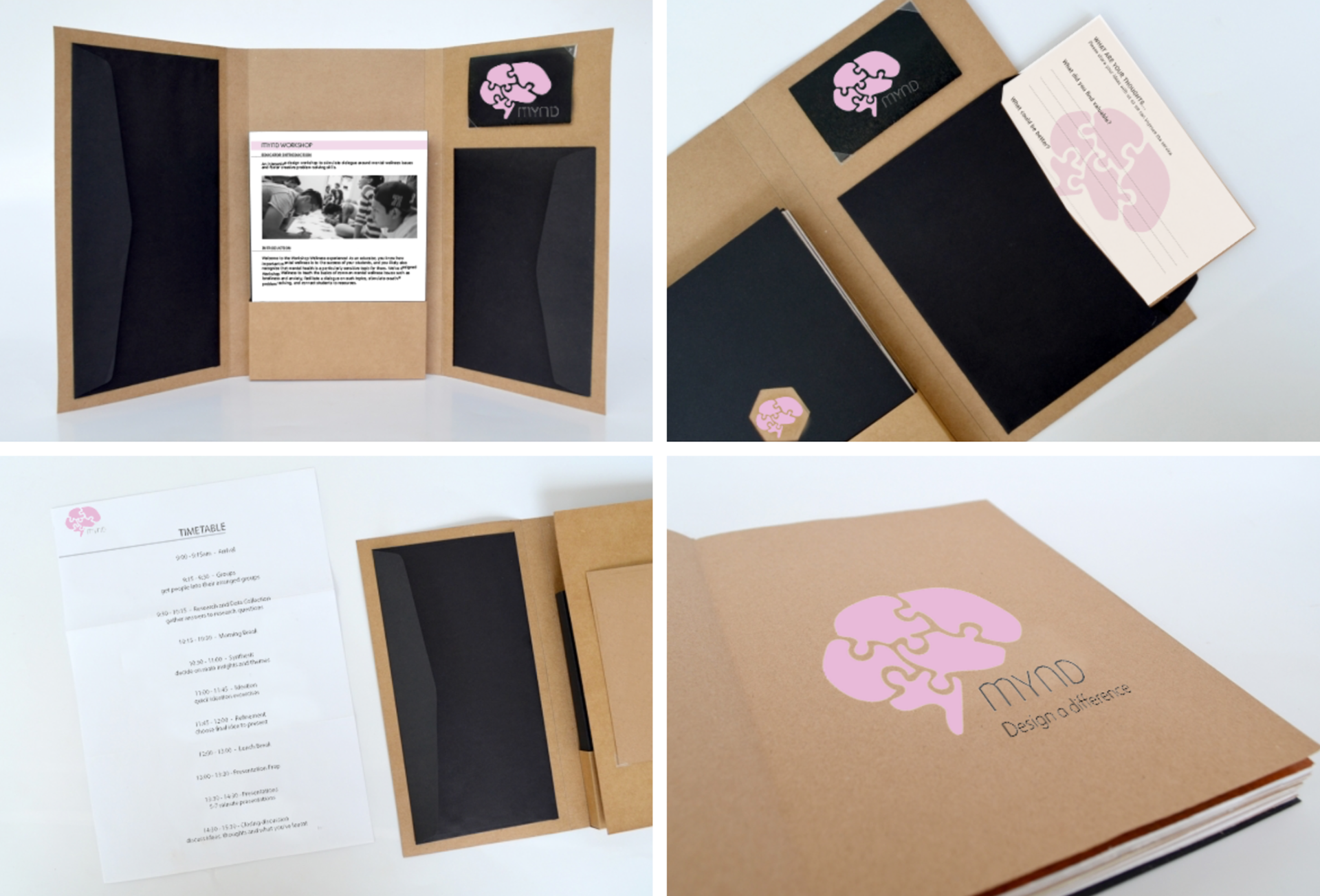 In terms of finding the service, we want to push marketing out to teachers, headmasters, and guidance counselors through council websites, direct emails, newsletters, and through teacher portals or sites. 
To sign up for the service, one fills out a simple form on the MYND website. Another option is to directly email MYND. 
To use would encompass the teacher toolkit with instructions and materials, the workshop itself, and gathering feedback directly after the workshop.
Retain is the idea of continuing the service past the workshop itself. We would partner with Headspace to give free subscriptions to the app, have a social media presence with new tools, tips, and events, and also send a 6 month follow up survey to measure the impact of the program.